What is COVID-19?
COVID-19 or Coronavirus Disease of 2019 is a disease caused by a newly identified virus called Severe Acute Respiratory Syndrome, Coronavirus-2 (SARS-CoV-2). SARS-CoV-2 has resulted in a world-wide pandemic, which is ongoing.
Other types of coronaviruses are known to infect humans and are one of the most frequent causes of the "common cold".
SARS-CoV-2 is made up of ribonucleic acid (RNA, a similar material to DNA) that is surrounded by a coating made up of lipids (a type of material that does not dissolve in water and protects the RNA center of the virus) and sugars. The RNA contains all the genes the virus needs to function within a human cell.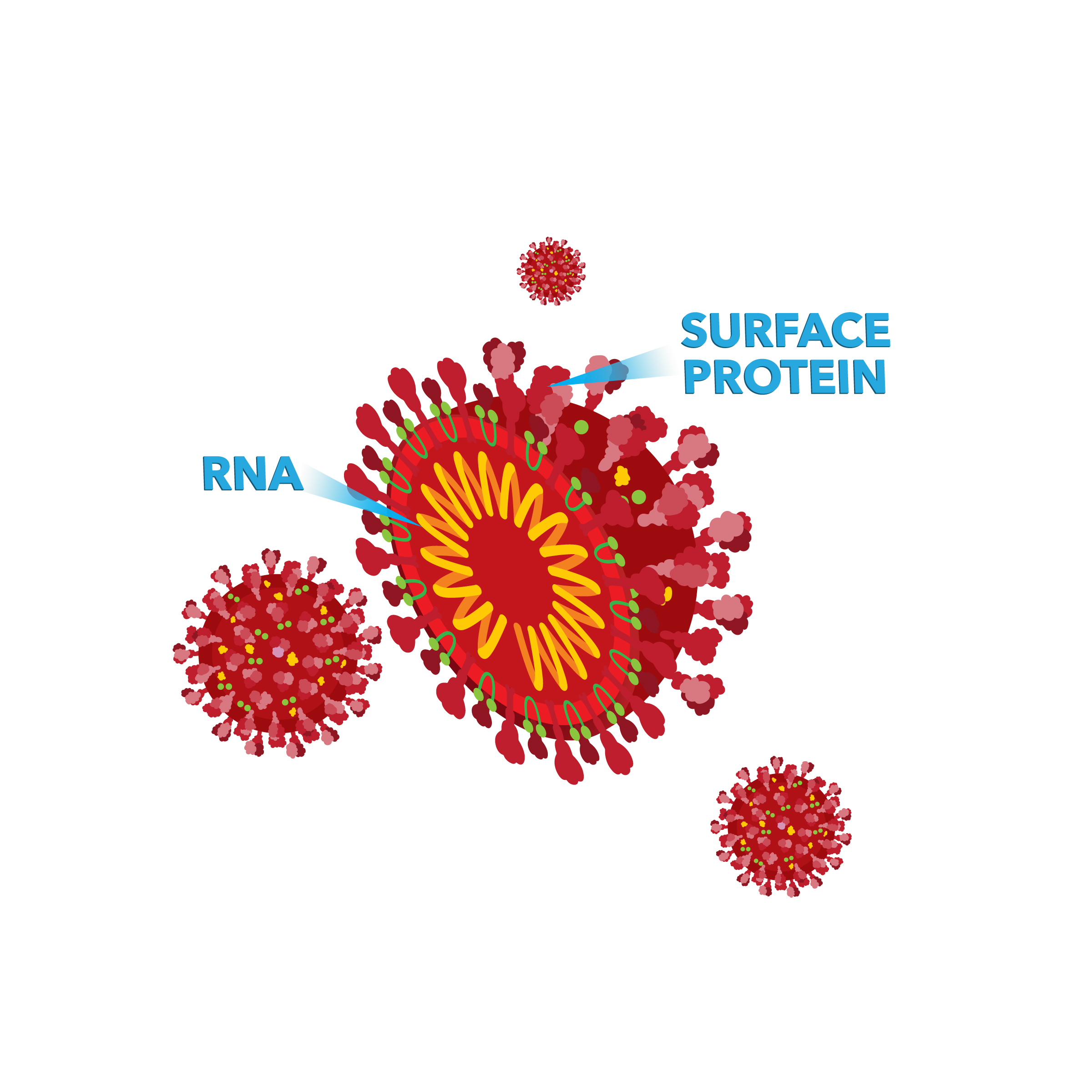 More information about COVID-19 can be found on the Centers for Disease Control and Prevention's (CDC's) website.
How does it spread?
SARS-CoV-2 is very infectious and is spread by exposure to respiratory fluids, such as breathing in droplets that contain the virus, from people who may or may not have symptoms. More information on how SARS-CoV-2 is transmitted can be found on the CDC's website.
What are ways to prevent exposure and spread of SARS-CoV-2?
Vaccines are injections that teach your body's immune system to recognize and defend your body from harmful viruses and bacteria. Vaccines are the most effective measure to prevent the spread of SARS-CoV-2 and have been proven to significantly prevent severe illness, hospitalizations, and death from COVID-19. The CDC recommends that everyone eligible to receive a COVID-19 vaccine should do so.
More information on the vaccines that are currently authorized and recommended for COVID-19 in the US can be found on the CDC's website.
In addition to vaccination, wearing a mask, social distancing measures, and quarantining after potential exposure also work in conjunction to decrease the spread of SARS-CoV-2. More information can be found on the CDC's website.
What are the symptoms?
Symptoms can begin anywhere from 2 to 14 days after exposure to a person who is contagious or shedding the virus, with an average onset of 4-5 days. This time frame is known as the "incubation period". The most common symptoms include cough, fever or chills, shortness of breath or difficulty breathing, fatigue and loss of taste or smell. Other symptoms can include headache, confusion, sore throat, congestion or runny nose, nausea/vomiting or diarrhea, or multisystem inflammatory syndrome in children (MIS-C), and MIS-A in adults, a rare but serious condition which causes inflammation in multiple organs. More information on COVID-19 symptoms can be found on the CDC's website.
Regardless of vaccination status or prior infection, CDC recommends that anyone with symptoms of COVID-19 should get tested and follow the advice of your healthcare provider. Contact your local or state health department to find a testing location near you.
The severity of symptoms can range from asymptomatic infection (no symptoms) to mild disease similar to the common cold to very severe respiratory or lung disease that can require mechanical ventilation support (a type of life support where a machine, the ventilator, takes over the work of breathing for a person who is unable to breathe for themselves) and may lead to death. Why some people develop more severe disease is not completely understood; however, people at increased risk for severe illness include older adults, pregnant or recently pregnant individuals, and people with chronic medical conditions such as diabetes, heart disease, or cancer. Unfortunately, the COVID-19 pandemic has highlighted underlying health disparities in the US as COVID-19 has been shown to unequally affect underserved populations. Some people may develop long-term symptoms after infection (called "long haulers" or "long COVID"), yet these long-term effects and who is at risk for developing them are still not completely understood.
What is the infection and vaccination rate?
The pandemic continues to be a major cause of severe infection and disease throughout the world, as well as in unvaccinated people in the US. You can find up-to-date information about infection rates and levels of vaccination in the US with the CDC COVID Data Tracker.